The College Entrance Examination Board (CEEB), a nonprofit American organization, was founded in December 1899 to support access to higher education. The College Board includes around 6,000 educational institutions as members, including schools, colleges, universities, and other educational organizations, while not having a direct relationship with colleges.
The primary focus of the College Board lies in developing and administering curriculum and standardized exams. These assessments serve K–12 and post–secondary institutions, aiding in college readiness and playing a crucial role in the college admissions process. The College Board's headquarters are situated in New York City, with David Coleman serving as its CEO since October 2012, succeeding Gaston Caperton, a former West Virginia governor who held the position from 1999. Currently, Jeremy Singer holds the role of President at the College Board.
In addition to managing fee-based tests, the College Board offers a wide array of services, tools, and resources designed to assist students, parents, colleges, and universities in various areas, including college planning, recruitment, admissions, financial aid, and retention.
The Origins of the College Board:
The College Entrance Examination Board (CEEB) was founded at Columbia University on December 22, 1899. Twelve universities and three high school preparation academies worked together to create this organization. Among these foundation institutions, the following stood out:
Columbia University
Colgate University
University of Pennsylvania
New York University
Barnard College
Union College
Rutgers University
Vassar College
Bryn Mawr College
Women's College of Baltimore (now Goucher College)
Princeton University
Cornell University
Newark Academy
Mixed High School, New York
Collegiate Institute, New York
Its main goal was to "develop and disseminate a comprehensive curriculum framework for secondary school education, outlining the subjects and educational objectives for various disciplines (as well as any other relevant ones)." It was also suggested to create a system of universal assessments for college entry that would evaluate students in a variety of topics, including Botany, Chemistry, English, French, German, Greek, History, Latin, Mathematics, Physics, and Zoology.
According to the board's fundamental organizational structure, the $5 examination fee would be equivalent to around $155 in 2020.
Overview of Testing and Programs: SAT and SAT Subject Tests
The College Board's SAT practice exam has been the main US national benchmark for college admissions since it was introduced in 1926. The Educational Testing Service (ETS) is in charge of its conception, administration, publication, and scoring, while The college board big future is in charge of its widespread usage. With scores ranging from 400 to 1600, the SAT practice exam measures a student's proficiency in writing, reading, and arithmetic. Both evidence-based reading and writing and mathematics have a maximum score of 800 points each. These scores are divided into two groups. For the attention of high school juniors and seniors, the SAT practice test competes with the ACT, another nationally standardized college entrance exam.
The standard SAT exam costs $49.50, with an additional $15 for the optional essay component. There are potential extra fees, including a $30 late registration fee, a $15 charge for phone registration, and a $30 fee for changing test college board sat dates, locations, or test types. Students on the waitlist pay $53, and each score report incurs a $12 fee. International students taking the test outside the U.S. are subject to a 'Non-U.S. Regional Fee,' ranging from $43 to $53. Consequently, the total testing expenses for a single student can exceed $200. Fee waivers and reductions are available to eligible low-income students.
In March 2014, the college board big future unveiled a redesigned SAT, set to launch in 2016. This revision restored the test to a 1600-point scale, with the essay now being optional. The testing duration was extended to three hours, with an additional 50 minutes for the essay. Additionally, the college board big future  partnered with Khan Academy to offer free test preparation materials for the revamped SAT, including a preparation app and practice problems with step-by-step solution videos.
SAT Subject Tests
College board Sat practice tests are tailored to assess students' performance in specific subjects like mathematics, science, and history. On a single test date, students can take up to three College board Sat practice tests at a flat rate. This involves a $26 per-administration registration fee, along with a fixed charge of $22 (or $26 for language tests with listening) for each subject test.
Key Developments and Transformations
In May 2015, the College Board initiated a collaborative effort with Project Lead the Way to promote student interest in STEM-focused careers through a credential initiative.
The outbreak of the COVID-19 pandemic in March 2020 led to the cancellation of several college board sat dates. 
On January 19, 2021, the College Board announced the discontinuation of college board sat practice Tests in the United States, with a phased discontinuation plan for international students. The optional essay section was also discontinued after June 2021.
Fast forward to January 25, 2022, when the College Board unveiled its plans to transition to a digital format for the SAT, aiming to enhance the test-taking experience. This digital version of the College Board SAT features a reduced testing time of 2 hours, a curriculum aligned with college courses, and the allowance of calculators throughout the Math section. This shift addresses technology accessibility disparities among students and was catalyzed by the disruptions caused by the COVID-19 pandemic. In 2021, the SAT Suite of Assessment Program saw 1.5 million high school students taking the test, compared to 2.2 million in 2020.
PSAT/NMSQT
The PSAT/NMSQT is a standardized test available for a fee, offering valuable SAT practice at a cost of $17. A person's eligibility for scholarships offered by the National Merit Scholarship Corporation is also determined by this. Only two of the many PSAT versions available are the PSAT 10 and the PSAT 8/9. It is crucial to remember that the PSAT 10 and PSAT 8/9 do not qualify applicants for National Merit Scholarships.
The Advanced Placement Program (AP College Board):
The Advanced Placement Program, administered by the College Board, represents a comprehensive initiative that empowers high school students to engage in what it deems as collegiate-level coursework. This enriching experience broadens their intellectual horizons while equipping them for future post-secondary studies. Additionally, it exerts a significant influence on college applications, accentuating students' intellectual capabilities and their genuine passion for learning. Through this program, many students have the opportunity to earn college credits, contingent upon their exceptional performance in the AP College Board exams, each priced at $97, similar to the College-Level Examination Program (CLEP). Importantly, it's essential to note that the final decision regarding credit recognition rests with individual schools and universities. Presently, approximately 2,900 colleges offer credit or advanced standing for achievements in the AP College Board program.
Critics of the Advanced Placement Program contend that the courses and exams prioritize breadth of content coverage over depth of knowledge. In May 2020, technical glitches prevented some students from submitting their AP College Board exams, necessitating a retake in June.
College-Level Examination Program (CLEP):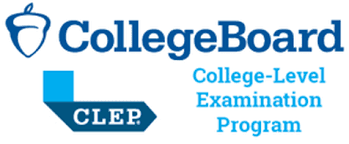 The College-Level Examination Program (CLEP) extends an opportunity to individuals of all ages, including high school students, college enrollees, homeschoolers, adults, senior citizens, children, and even exceptionally gifted youngsters, to demonstrate their mastery of college-level subjects through a series of undergraduate course exams. A total of 2,900 colleges acknowledge and grant academic credit to those who successfully pass CLEP exams
SpringBoard:
SpringBoard represents an educational initiative crafted by the College Board, designed to prepare students for the challenges of Advanced Placement (AP) college board courses and higher education. Built upon the "Understanding by Design" model developed by Wiggins and McTighe, SpringBoard aims to synchronize knowledge acquisition with essential academic skills in anticipation of AP college board exams and overall college success. This program features a structured curriculum spanning various grade levels, creating a cohesive framework that nurtures the development of crucial learning skills and subject-specific expertise in students. Within this curriculum, teaching strategies for both pre-AP college board and AP college board seamlessly interweave with coursework at different grade levels, enriching the learning journey.
This comprehensive curriculum caters to students from grades 6 through 12, offering educators valuable formative assessments, opportunities for professional development, and a plethora of teaching resources to closely monitor and bolster students' academic advancement. The instructional framework is thoughtfully interwoven into the core content and subject materials, ensuring a holistic learning experience. SpringBoard also extends its resources into the realm of Web 2.0 tools, fostering a vibrant sense of community engagement within the program.
Advanced Placement (AP) College Board Courses:
Critics have voiced concerns regarding the structure of AP College Board courses, characterizing them as having a fixed curriculum while recognizing their essential role in the college admissions process. The College Board wields substantial influence over AP College Board courses, either directly or indirectly. It's worth noting that the $97 fee for AP College Board exams, as previously mentioned, only provides a score report that includes the test name and grade, without divulging the scoring methodology or granting individuals access to this information from the College Board.
Moreover, a significant alteration took place in 2018 when the College Board introduced a pilot program, which was fully implemented in 2019, necessitating students to register for AP College Board tests in the fall, prior to the release of early-round college admissions decisions. Although the College Board's rationale was to ensure that students engage with the material from the start of the academic year, this move faced criticism from students. They argued that the early registration deadline forces them to commit to paying for tests without knowing whether their chosen college will accept these exams for credit. Additionally, the College Board imposes a $40 fee if a student fails to take a test for which they registered. Consequently, many students who registered for tests that wouldn't earn them college credit find themselves compelled to either take these tests or pay the fee.
Traditionally, AP College Board exams are conducted in a school setting and typically last for two to four hours. However, due to the COVID-19 pandemic in 2020, the College Board introduced an alternative format for AP College Board testing. Students were required to take these exams from their homes, in a shortened 45-minute, open-book format. This unconventional approach resulted in reported disruptions, including students encountering difficulties in submitting their answers, confusion about the testing process, and more.